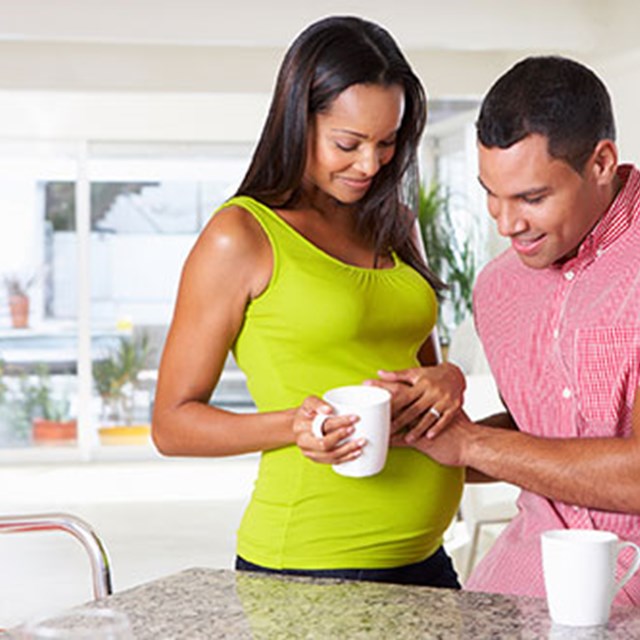 It's more than just beauty rest.
Sleep allows the body to reset and repair itself. Unfortunately, many women have problems sleeping during pregnancy and have vivid dreams or nightmares. Loss of sleep due to fluctuating hormones and anxiety from stress can impact your health in general, especially when pregnant. 
With your body rapidly changing and a growing abdomen, you may need to change your sleeping habits for a comfortable night's rest. You may experience many side effects of pregnancy, like nausea, insomnia, swelling, leg cramps, restless leg syndrome, varicose veins, hemorrhoids, back pain, shortness of breath, acid reflux, and backaches.
Sleeping for two requires trying new positions that benefit you and your baby. For example, the "SOS" (sleep on your side) position maximizes circulation for both of you. And sleeping on your left side is recommended for better kidney function and more blood and nutrients to reach your growing baby. 
Make pillows a priority! 
Pillows can support you in different ways to help you be comfortable. Try the side sleeping position with your legs and knees bent comfortably for backache relief. Place a pillow between your knees and under your belly. Another pillow behind your back can help prevent you from rolling onto your back.
Hugging a pillow can decrease tension in the legs, knees, and lower back. This method can be an additional pillow or a longer "body" pillow that allows you to wrap your arms and legs around it. 
If you have problems adjusting to sleeping on your side, primarily if you're used to sleeping on your back, try sitting up. Pile up pillows to create a comfortable reclined position. For napping during the day, use the recliner instead of the couch. Propping your torso with pillows can help with acid reflux and shortness of breath. 
These positions may seem like they'd be uncomfortable if you're not used to them. Once you've tried them a few times, you will likely find minor tweaks to make them work. For example, it may help to have a larger or smaller pillow, or you can shift the pillow to find the perfect spot for you. It's natural to change positions during the night. If discomfort or the need to go to the bathroom wakes you up, return to your new, best position to fall asleep again. 
If you usually sleep on your stomach, you may become uncomfortable as your pregnancy progresses with a growing abdomen and increased tenderness in your breasts. Another pillow that may help is the donut-shaped pillow. The hole in the middle for your tummy may help you be more comfortable. It's OK to sleep with this type of pillow during the first trimester, but it is not recommended during the second and third trimesters.
Other sleeping habits to consider
Sleeping on your back presses the inferior vena cava - the vein moving blood back to the heart from the lower body. Due to this and the possible discomfort from more pressure on the back, intestines, and other organs, lying on your back is not recommended. This position may also contribute to increased backaches, labored breathing, disrupted digestive system, hemorrhoids, reduced circulation, and low blood pressure. In addition, with the weight gain of pregnancy, you may also develop sleep apnea.
It's essential to embrace the need for new sleep positions, but your non-sleeping lifestyle can also help you get the rest you need. For example, good sleep hygiene can set you up for an easier transition to sleeping in a new position. Suggested actions include: fresh air and moderate exercise during the day, less caffeine, limiting or discontinuing screen time before bed, don't overeat or drinking late at night, staying on a sleep schedule of retiring and waking up at the exact set times, and pursue ways to relax and ease stress.
Healthy sleep contributes to your health and the health of your baby. And, it's essential to be in your best health, especially since once your baby arrives, they may not sleep through the night for a while. 
Following these tips will help you get your best sleep when you crawl under the covers.