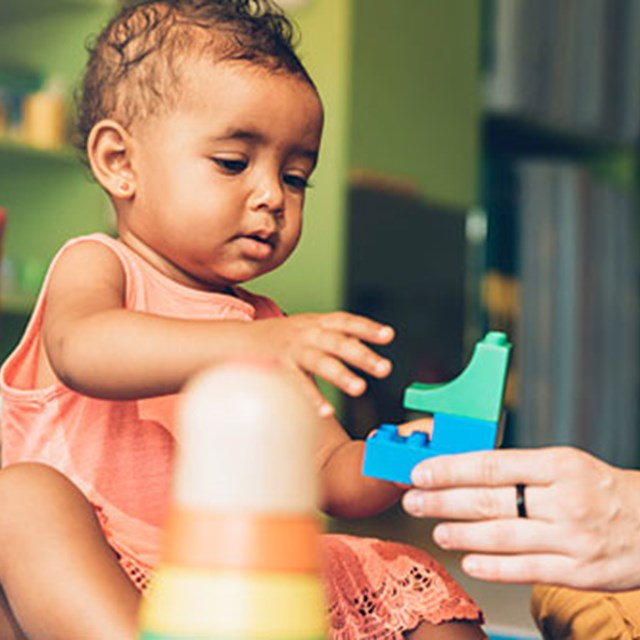 Life transitions can be challenging for anyone, especially when it comes to the unknown. But when it comes to starting child care for the first time, parents and children often feel anxiety and discomfort about transitioning to this new stage of life. The good news is that there are many things you can do to help ease everyone's stress and help ensure your child is emotionally, socially, and physically prepared and ready to start this brand-new adventure.
Plan a visit:

 After searching and finding a new child care provider (made easy at abcquality.org), many families may be apprehensive because their child has only been in family care up to this point. But the best way to ease the unknown fears is to plan a visit to your new provider with your child. On this visit, you and your child can see firsthand how provider staff interact with children, what the curriculum is like, and become accustomed to the overall atmosphere of the center. It's a good idea to make more than one visit to make your child (and you) feel 100 percent comfortable with your provider's choice. Also, note that many providers offer formal transition periods between 2 weeks and one month right before the start of school, so be sure and check to see if this option is available.

Discuss what will be expected: You can help a child get excited about the provider experience by discussing what to expect in a child care setting. Whether a child is a toddler or preschooler, you can help them feel comfortable by talking about their new routine and schedule, how to make new friends, and how learning new concepts can be a fun adventure. 

The drop off:

 Dropping off a child at a provider for the first time can be challenging for both the child and family members. Because there might be some tears and fears at play, give you and your child extra time on the first couple of drop-offs until everyone can get used to the new routine. Also, try to be as positive as possible about the experience, as a child typically takes cues from a parent or other family member. Consider allowing your child to bring their favorite toy, blanket, or other personal item for security. And even though it may be hard to drop off your child those first couple of times, project the positive parts of their new experience so that your child will pick up on your encouraging attitude. 

The pick up:

 When you pick your child up from their provider, make it seem like a real celebration by showing love, affection, and praise. You can praise your child by telling them how proud you are of them being a big boy/girl and staying with their new friends while you are at work. Also, take time to ask how their day went and what they may look forward to in the future. And once they have been going to child care regularly, be sure to ask them about their new routine so they can open up and share their feelings with you.

 
Parents should also feel free to check in with a provider to see how their child's day is going - especially at the beginning of this new experience. You may be surprised that the crying child you left behind is happily making new friends and enjoying being on their own much more than you ever imagined.