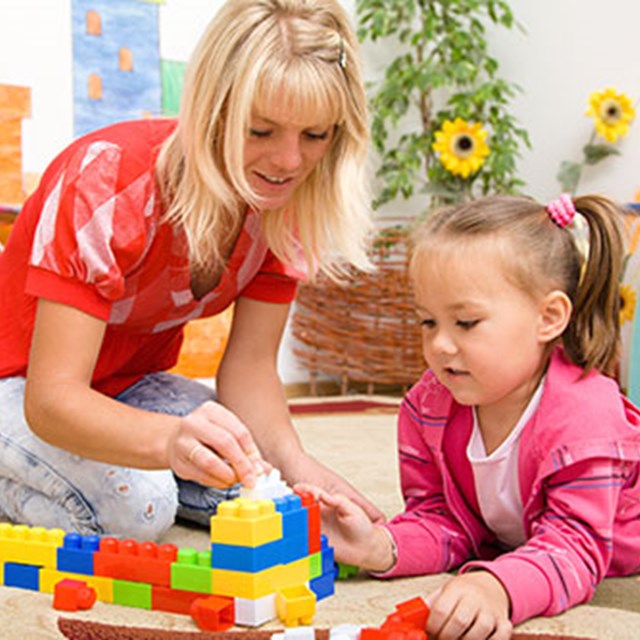 Affordable, high-quality child care is a must for families in South Carolina. Child care not only keeps children safe and healthy, it helps them develop social, emotional, and communication skills they will need for success in school and throughout their lives. Unfortunately, many families in communities across the state have limited access to child care. But that's where ABC Quality comes in.
ABC Quality works with community partners and providers across South Carolina to create new child care programs and expand existing programs in underserved communities. ABC Quality manages the distribution of federal funds to support these efforts. As a result, providers who are part of the program may be eligible to receive grants and funding opportunities to assist in program and facility operations, technology upgrades, financial assistance for personnel, equipment, and supplies. These funds help providers enhance their facilities and operations to ensure that quality child care is accessible and affordable for all children and families in our state. 
Some of the ways ABC Quality is working to make child care more accessible for families include the following:
SC Building Blocks Grant: Child care stabilization grants were allocated to states during the American Rescue Plan Act (Public Law 117-2) to help stabilize the child care sector through subgrants to child care programs  due to the COVID-19 pandemic. To date, $700 million has been provided to SC child care programs in operating and stabilization grants to help recover from lost revenue due to low enrollments during pandemic response. Child care programs used the funds to support their key operating expenses (personnel costs, rent, utilities, facility maintenance, insurance, personal protective equipment, health and safety practices, etc.)—all costs that are associated with running and maintaining a child care facility. The SC Building Blocks Grants were awarded to qualifying child care programs in two rounds to help ensure access to safe, high-quality child care for families throughout the state. For more information on SC Building Blocks Grants, visit here.
SC Child Care Start-Up Grants: To increase the amount of child care options available for families, SC Child Care has introduced start-up grants, a funding opportunity for individuals interested in opening a center or family child care program for the first time. Eligible applicants will work directly with an SC Child Care Resource and Referral Network Quality Coach and Child Care Licensing staff during the licensing process to receive on-going technical assistance and approve project requirements.
T.E.A.C.H Scholarship Applications for Child Care Professionals: In an ongoing effort to recruit and retain high-quality staff for child care providers throughout the state, the SC Endeavors T.E.A.C.H. Early Childhood® Scholarship Program awards scholarships to child care teachers, directors, owners, and family/group providers currently working in a licensed or registered child care program. The T.E.A.C.H. scholarships have made a tremendous impact on attracting and retaining outstanding child care educators in South Carolina, helping to support, maintain, and ensure a higher level of quality child care for our children. Applications for the program are on a revolving basis and are now open for the spring 2023 semester. If you know a child care professional who wants to earn their credentials, associates, or bachelor's degree in early childhood education, please encourage them to apply. To learn more or apply, click here.
The Child Care Scholarship Program: The SC Department of Social Service's Division of Early Care and Education offers child care scholarships for working families to assist with the costs of quality child care. The child care scholarship program makes child care more affordable for families in need by providing all or a portion of the payments directly to child care programs so families can work or attend school or training. As of Nov. 2022, more than 1,900 child care programs across the state are currently enrolled in the program, which has enabled more than 50,000 eligible children to receive high-quality child care.
Currently, more South Carolina households than ever are eligible for scholarships to help with the costs of quality child care. The newest scholarship offering is known as COVID-300.
Who can apply for a COVID-300 child care scholarship?
To qualify for a COVID-300 child care scholarship, parent(s) or guardian(s) must:
have a child or children between birth and 12 years of age
work at least 15 hours per week or attend school or a training program
have a gross income below 300% of the federal poverty level; for a family of four this would be up to $112,500 annually
Other Ways to Qualify:
Households with essential workers may also qualify for child care scholarships starting in 2023.
Child care scholarships are available to support children ages 13 to 18 in certain circumstances: those who have disabilities, developmental delays or who are in foster care.
In addition, funding to offset the cost of child care is available through other programs and categories such as TANF, homelessness, dual language learners, and others.
Since October 2020, more than $700 million has been allocated for child care scholarships, when DSS began offering additional child care assistance programs for working families in response to COVID-19. The child care scholarship program has also created a new, easy-to-use online application for parents and providers to check their eligibility.
Learn more about the Child Care Scholarship program, apply for a child care scholarship, or contact the Division of Early Child Care and Education for details.