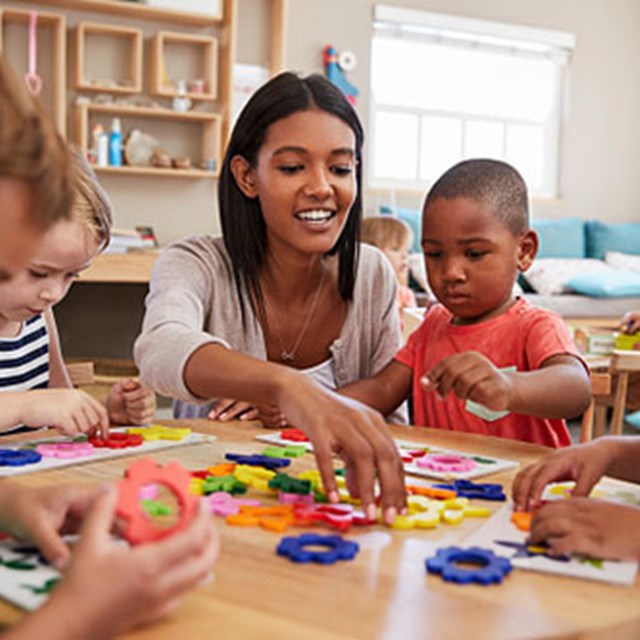 When choosing a child care program, there are many things to consider. But for most parents, one of the top things on a potential provider checklist is to ensure your child will be in a safe environment. A safe environment can include many factors that affect your child's safety and security while being cared for somewhere outside of the home. 
Check Facility Reviews & Inspection Reports
In South Carolina, child care providers must follow state guidelines for operating safely. The Division of Early Care and Education of the South Carolina Department of Social Services, stipulates that all child care programs in our state must be licensed, registered, approved, or legally exempt. The type of provider determines the requirements they are assessed. Licensing promotes health and safety by setting critical standards and registering and regulating those caring for children through regular inspections. You can check a child care program's latest facility review and inspection reports by using our provider search tool. This will alert you to any issues that have occurred at the child care program.
Look for an ABC Quality rating
To qualify for the ABC Quality program, providers must meet qualifying standards and fulfill the steps of a program evaluation.  A provider that earns an ABC Quality rating exceeds licensing regulations for the care they provide to children. A letter rating — of any level — proves a program goes above and beyond to provide the kind of care children need to thrive and to ensure their safety. Once a program has a rating, it can work toward achieving the next quality level and providing even better care. Although the ABC Quality program is voluntary, there are many safety measures that the program mandates to help ensure the security and welfare of children in a given provider's care. 
ABC Quality requires all aspects of the facility to be well-organized, clean and well-maintained. There should be a variety of playground equipment outside and toys inside that are up-to-date, clean, and not need repair. The layout of all the spaces should keep the sightline between the teachers and children open with no blind spots. 
When you visit child care providers, you may consider many things to check off on your safety checklist, including the building, equipment, materials, toys, classroom layout, and outdoor play areas.
Staff-to-child ratios help ensure your child's safety
The staff-to-child ratio is the number of children each child care staff member (or family child care provider) supervises. Required staff-to-child ratios differ by age. Mandatory ratios and group sizes help staff provide better supervision and care and provide children with more opportunities to develop social skills by allowing them to interact with a smaller group of children and staff consistently.
Studies also show that children feel safer, more secure, and less overwhelmed when consistently receiving one-on-one attention. Responsive caregiving impacts your child's social-emotional development, physical well-being, and learning. With a low staff-to-child ratio, it's easier for staff to interact and respond quickly to individual needs. 
Specific infant and toddler care guidelines also contribute to a stimulating and nurturing experience. These include routinely holding the infants and toddlers, engaging by talking with them, reading, singing, playing, and rocking. Children should be encouraged and stimulated with toys and games that use the five senses of seeing, touching, hearing, smelling, and tasting. Other than sleeping or for concise, quiet play, the children should not be in their cribs or playpens. Daily programs must include development goals and room for individual choice and exploration. The staff must share the details of the child's needs and activities with the parents. 
Nutritional Best Practices and Food and Beverage Safety Rules
ABC Quality programs operate under a statewide initiative to prevent childhood obesity called the ABC Grow Healthy Best Practices for Child Care Centers program. The program results from a study of standards and recommendations on nutrition and physical activity for a child's optimum health. It has been implemented in providers' programs in the ABC Quality program.
Safety rules for food and drink include labeling cups and bottles by a child's name and ensuring they are only used by that child. Parents can specify the time, quantities, and foods a child will eat. When bottle feeding, a staff member must hold babies until they can hold their bottle. There are many other details, such as how food is heated, checking food and beverage temperature, and directions on cutting the food to specific sizes determined by age. The guidelines cover all aspects of child safety for high chairs, sleeping, and caring for ill children. To read the complete list of regulations, visit S.C. Code Regs. § 114-519.
The guidelines for operating a child care center detail the specifics of safely prepared, healthy meals, snacks, and drinks for children of all ages. Just as restaurants have rules for serving food, the center must manage cleanliness, freshness, and discarding of leftovers. Food and drinks brought from home must only be fed to the child whose name is on the label. Parents must be notified in writing during enrollment and approve of microwaving formula and other beverages. 
Visitor Policies
A quality child care provider should have a strictly followed visitor policy. The policy covers the steps for logging in the visitor, accompanying the visitor at all times, never leaving the visitor alone with children, and other safety tips. Parents should be welcome to visit at any time. The visitor policy should be shared with parents when enrolling. Parents should be welcome to visit at any time.
Other Safety Considerations
When providers enter the ABC Quality program, they must ensure their facility adheres to many environmental safety regulations. This includes having a building and playgrounds that are free from hazards and litter, that include clean, sanitary water and plumbing, that play areas are safe from poisonous plants, and that children are restricted from unsafe areas like streets and parking lots and the facility has a fence or natural barrier surrounding the property. In addition, all interiors must have exits/entrances with self-closing positive latching gates with locking devices. 
This is just a partial listing but begins to define the strict safety rules that being an ABC Quality rated child care program can afford your child and help you have peace of mind that your child is safe and secure. 
To help ensure your child is in a safe child care environment, check out a provider's quality rating and assessment.