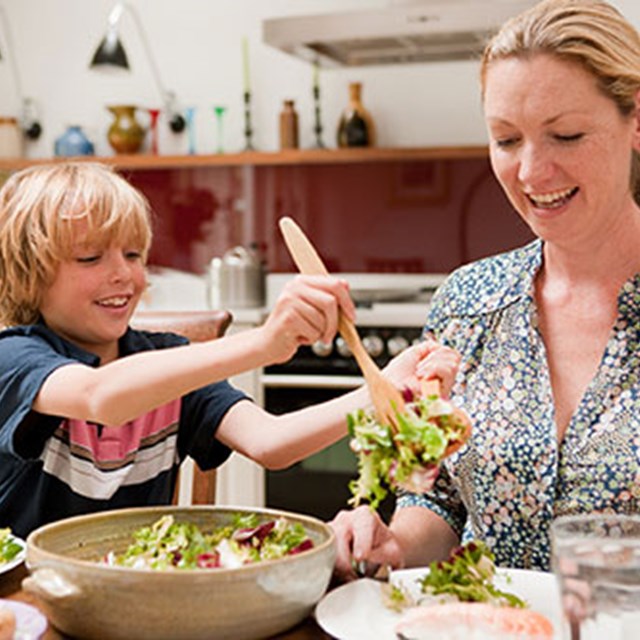 For the past 12 or so months, Americans have watched the prices of goods and services in the U.S. rise steadily. The cost of everything, from gas to groceries, has risen as the purchasing power of money decreases. For a family budget inflation can feel very threatening, especially as the rate of inflation is sitting around 8 percent, a level not seen since the early 1980s. While we might like to think we're approaching the end of the inflation tunnel, experts agree that we still have a way to go. Fortunately, there are steps parents can take to help protect their family finances during these fiscally challenging times:
Reevaluate your budget and form a spending plan: Hopefully parents and caregivers already have a family budget in place, but if not, now is the right time to make one. Having a family budget and spending plan allows you to look at where you are spending more than you were before. Most likely, you'll see this when it comes to gas, groceries, clothes, and housing. While housing and food are necessities, look at ways to easily decrease spending on other things. Understand what your immediate priorities are in taking care of your family and begin chipping away at spending that isn't high priority. Perhaps consider a carpool to save on gas or eliminate unnecessary shopping trips. It may lessen your temporary sense of fun, but inflation won't last forever, and you'll be back to the occasional shopping splurge in no time.
Cut unnecessary expenses: Eliminating extra expenses may not seem like much fun for families, but many parents will be surprised at what they're paying for subscription services and other goods their family isn't even utilizing. Consider putting that Hulu subscription on hold for the next year or so or going back to grocery shopping on your own instead of using Instacart. Take it a step further and consider whether you could cut your own hair, workout at home instead of a gym or begin fixing coffee and lunch at home before work. While all these expenses on their own may seem small, when compounded come out to a lot in savings.
Shop around for a less expensive alternative: This can mean seeking out a cost-saving grocery store, purchasing groceries in bulk, or keeping an eye out for coupons and deals on products your family frequently uses. Consider swapping off-brand products for name-brand products. Furniture and other items can be purchased at steep discounts second hand on Facebook marketplace or other commerce websites, and thrift stores often have a lot of barely worn kids' clothes and other childhood necessities for a small fraction of what they cost new. Lastly, parents and caregivers may be surprised at what they're able to find for free in their communities. Many areas have local Facebook groups with 'free' postings. Or head to www.BuyNothingProject.org to locate a potential 'Buy Nothing' group in your area. 
Look for free entertainment: Beyond being on the lookout for freebies on Facebook marketplace, keep your family entertainment budget as small as possible by taking advantage of free community events and activities. The local library is a good place to start, with everything from free story and craft times to free family movie afternoons. Your local recreation center is also a good place to start when looking for free entertainment. Additionally, many museums and attractions offer free or discounted days. Take advantage of all the senior, child, and local discounts you can find.
Consider a way to earn extra income: Finding extra income might mean approaching your boss for a raise based on performance and the rising costs of inflation or it might mean picking up a second part-time job. Think outside the box when it comes to how you could generate extra income. Do you have clothes and other household items to get rid of? Consider selling them on Facebook, eBay, Poshmark and other sites. For creative, hardworking people, there are lots of ways to make some extra money from home.
According to estimates by Bloomberg Economics, the average American household will have to spend an extra $5,200 this year (or $433 per month) to live in the exact same manner as last year. Cutting what isn't necessary and being smart about purchasing what is can help keep your family finances on track until inflation begins to level out, which economists say should happen by the end of 2023. For more information on family budget planning, visit www.verywellfamily.com or www.nerdwallet.com.